My husband's grandmother on his mom's side, was a Schlagbaum before she married Ralph Spieles. She grew up just outside of Ottoville, Ohio on Road Q. The home, was owned by Joe Schlagbaum, her father. And he and his wife Theresa raised ten children in the home, including Clotilda (Tillie), my husband's grandmother.
Today the home is owned by Gary and Janice Schlagbaum. Gary's father Tony, was Joe's son, or Tillie's brother. They have turned this home into a place of such beauty, many photographers in the area often use their property to photograph wedding parties, engaged couples, and seniors alike, including myself. Upon a request for pictures of the property by Gary and Janice's daughter Melissa, how could I possibly say no. So on a foggy Friday morning, I ventured just down the road from where I live and took pictures of the property.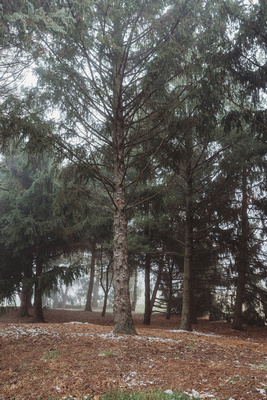 Including the original home of Joe Schlaubaum, there is a barn, that also is original. But also Janice and Gary have erected a greenhouse (using recycled materials), a pond, various other small buildings, and a log cabin that once stood on State Route 66, just north of Ottoville. Many hours have been spent, nurturing this beautiful property, and it shows.
I am so thankful and so blessed to have Janice and Gary as neighbors. And to have had access to use their farm over the last several years. And so I was very excited to participate in this wonderful gift for them. Thank you Janice and Gary. You are truly a gift to the community.